Tips For Thin or Thinning Curly Hair
Tips For Thin, Curly Hair
We already know curly hair comes with its own set of struggles, but for those of us with thin hair, there's an added twist. Whether your hair is naturally thin or your texture has thinned out due to alopecia, stress, or maybe even COVID-19 induced hair loss, it can have a significant impact on your curl confidence. Thankfully, you've got options. Check out some of our curl care tips for thin curly hair below.
 
Thin Hair Struggle #1: Getting Volume In Curly Hair That's Thin
One of the biggest struggles for those of us with thin or thinning curly hair? Volume. But there's a few easy fixes. First, start with how you style. Apply your products when your head is flipped upside down. Why? It helps keep product and hair from clinging to the scalp, encouraging volume. Dry your hair with a diffuser the same way. The more lift, the better.
Want even more? Try curly clip-in hair extensions. You can use hair extensions that are curly and clip in to add layers to your naturally curly hair and pump up the volume. The transformation below was achieved using Bebonia curly hair extensions. Crazy, right?
Thin Hair Struggle #2: Curly Hair Gets Greasy
We don't know about you, but we're not really into being a grease ball. And when you have thin hair, it can seem like that's your permanent state. Especially with how heavy most curl stylers are. So what's the fix? Opt for products that promise lightweight moisture and hold. Steer clear of intense hydrators and don't use oil anywhere near your scalp.  If you're trying to extend time between your wash days, you can always try to hit any greasy roots with your diffuser, set to cool. This can sometimes help eliminate excess oil. 
Thin Hair Struggle #3: Getting Curly Hair in a Ponytail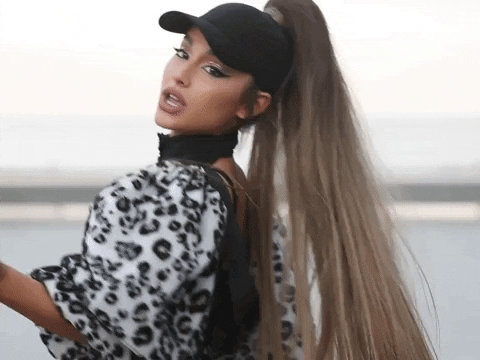 Trying to grow your curly hair past the bun stage is hard as it is. When you work so hard to achieve healthy length it can feel like heartbreak if your ponytail is sparse. Luckily, there's a few tricks. You can try a stacked ponytail, which involves dividing the top and bottom half of your hair and creating two ponytails, one from the top hair, another from the bottom. The stacked effect makes your hair look longer and fuller. For an added boost, you can also hide a hair clip under the base of your ponytail to lift it up and out. 
Want more? Take a cue from Ariana Grande (who, by the way, has curly hair) and get a ponytail extension. You just need to wrap the extension around your already existing hair, and boom—mega pony. It takes less than 5 minutes and the effect is stunning. To create a bold, show-stopping look, try our curly Drawstring Ponytail. It comes in three lengths and three colors. 
Check out some of our favorite looks below:
If your curly hair is thinning, don't panic. Here's how to deal with thin, curly hair. Spoiler alert: clip-in extensions can make all the difference!